Lecture – 4.3.2017
Additional Resources: Visions
This page contains additional resources for the Visions class.
In the video below, Futurist Stuart Candy talks about the importance of future casting and imagining future scenarios.
The text for the video below is based upon visions of a sustainable lifestyles in 2050  in The World We Made.
Video from Green TV, 2013
The videos below were developed by Great Transition Initiative: Great Transition Ideas and Visions of a Sustainable World provide a good overview about the transition to sustainable futures. Additional information can be found on their website: http://www.greattransition.org/about/aims-and-background
Video from The Great Transition Initiative, 2014
Video from Yale University, 2010
The video below, Future Radars, introduces a method of backcasting that analyses steps towards a vision according to the amount of effort, impact, feasibility and control that they involve.
Another organization that acts as a global think tank for imagining more sustainable futures is The Millennium Project. The website has a variety of resources and publications on this topic.
Discussion Session – 4.5.2017
Additional Resources: Place-Based Lifestyles & Everyday Life
There is a wealth of publications, videos and other resources on the website of the EU project SPREAD, which focussed on the development of visions of sustainable and high quality lifestyles in 2050.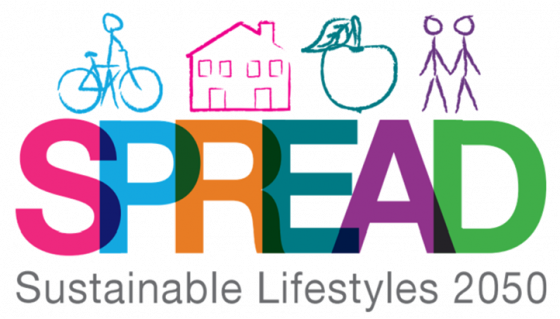 Each film represents an aspect of everyday life in the future, such as community, the management of the commons, local economies and careful stewardship of resources and the environment.
Below are four more videos from SPREAD exploring promising future lifestyle practices.
Discussion Session – 4.10.2017
Additional Resources: Domains of Everyday Life and Cosmopolitan Localism
Below Gideon Kossoff discusses the Domains of Everyday Life in a lecture for the Gund Institute at the University of Vermont.
Video on the Gund Institute website, University of Vermont
The diagram shows the nested, holarchic domains of everyday life that Gideon described in his talk (above) and the webs of relationship found at each level of scale. At the level of the household, relationships are fewer, but are strong/thick and long lasting.  As higher levels of scale, the number of relationships increases, but they are weaker and more transient. Transition Designers must determine at which level of scale a solution is most effective and design for the web of relationships that comprise it.
Former UK diplomat Carne Ross contrasts direct democracy, in which communities directly participate in the political process, and representative democracy, in which the political authority is delegated to professional politicians.. Ross argues that direct democracy, or self-government, leads to more just, egalitarian communities and well-managed communities.